Engineers are in high demand on the Finnish job market. Therefore, one would think that skilled international engineers would easily find their dream jobs here. Unfortunately, as Omar Hamdy found out, international engineers may face several barriers to employment in Finland. However, there is help to be found.
This story is brought to you by Vaasa International Talents in cooperation with Vaasa International.
Omar is an Egyptian engineer who came to Vaasa in early 2021 to study for his second master's degree at the University of Vaasa. Before coming to Finland, Omar completed a bachelor's degree in Electrical and Machine Power in 2013 and a master's degree in Renewable Energy in 2018 from two different universities in Egypt.
After his graduation, Omar focused on gaining practical experience by working as an electrical design engineer in a multinational company based in Egypt. The company has several regional offices in the Gulf region, allowing Omar to experience working in a multicultural setting with colleagues from diverse backgrounds and nationalities.
Omar worked on large projects in the United Arab Emirates, such as the Marriott Hotel & Resort in Ras Al Khaimah and a multi-use super high-rise building at Al Kifaf in Dubai. Omar's responsibilities as a senior electrical design engineer included, among other things, setting the design criteria, performing electrical testing and handover as well as monitoring cost and quantity estimations.
"Working on such huge projects in international companies contributed to my personal and practical experience," Omar says.
The journey to the most innovative city, Vaasa
Omar's ambition did not stop after working and gaining practical experience. He was determined to upgrade his skills and do his PhD abroad to broaden his horizons, specifically in Europe. Finland was one of his first choices due to the efficiency and great reputation of its higher education system.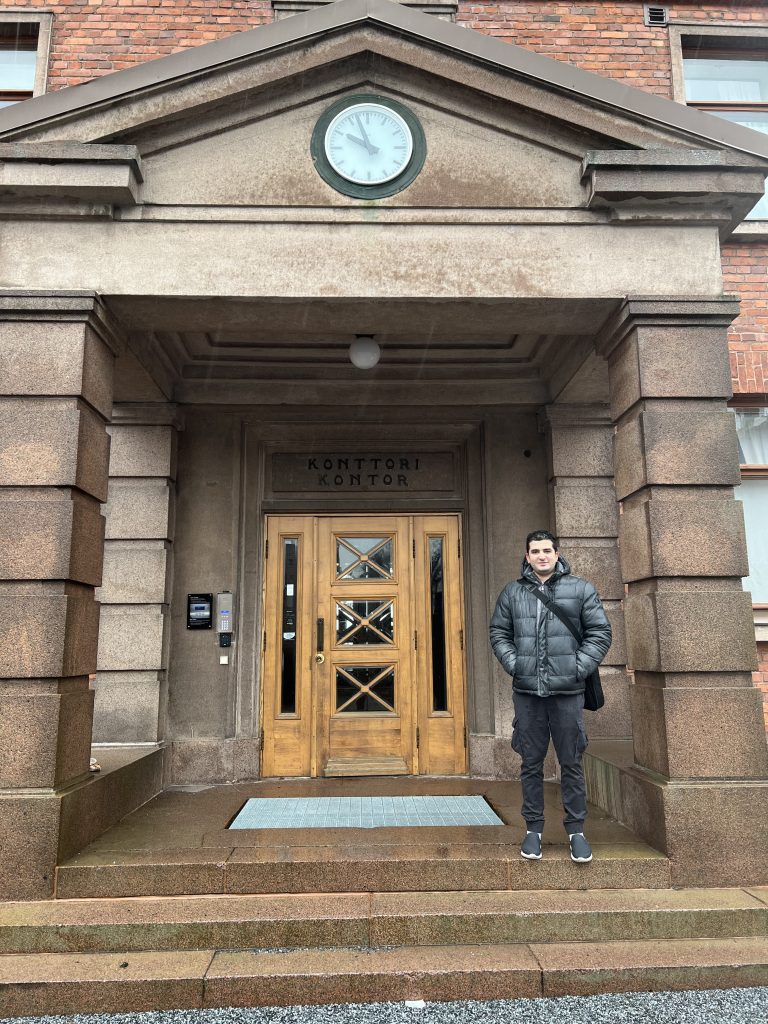 I applied to several universities in Finland and was accepted on a scholarship to the Master's Programme in Smart Energy at the University of Vaasa. I was not familiar with the city of Vaasa before, but once I knew that it's the largest energy technology hub in the Nordic countries, I understood that I had found the right place.
Currently, Omar is working as a part-time project researcher at the University of Vaasa and doing his master's thesis on the utilisation of batteries in the momentary load variations of a cruise ship.
"Until I started working on my master's thesis, I did not imagine that there were so many similarities in the electrical design of the buildings and cruise ships," Omar says.
Finnish engineering code poses a barrier to employment
When asked about his job search journey, Omar surprises us with the fact that finding an engineering job in Finland is not as easy as one could imagine. He says that he started job-hunting even before coming to Finland:
I started to connect with Finnish employers and companies on LinkedIn and applied to dozens of job positions with no luck. I only got five interview invitations from these applications, and guess what? I was rejected because I did not know the Finnish engineering standard code and did not understand the Finnish language.
Omar explains that in electrical design work, there is a certain code associated with every geographical region. For instance, the code used in Egypt cannot be used in Dubai or Finland due to the differences in weather, temperature, and other factors. The engineering standard codes work as technical guidelines for the design of electrical installations, which ensures safety and reliability for users.
Understanding the code and studying it is not difficult if the code is written in English. However, in Finland, all codes are written in Finnish, which was hard for Omar to comprehend and study. This was Omar's main obstacle when looking for a job.
New learning perspectives from Finland
Omar expressed his relief after starting his research work and his immense satisfaction with the Finnish education system.
"In Egypt, the study system is not quite organised, and it takes time to figure things out, unlike Finland, where the learning plan is very clear from the beginning", Omar explains. He also adds that he enjoys the diverse learning techniques offered at the University of Vaasa that boost the brain's power and enhance intelligence.
Being active is one of Omar's qualities. Despite his busy schedule between studying and working, he has managed to join several extracurricular programmes intended to help connect students with work opportunities. One of these is the Vaasa International Talents programme, which supports international students in particular.
I immediately applied to the programme once I received the advertisement from my university. I think it is a great opportunity to widen my network and really get to know the Finnish working culture.
After Vaasa International Talents, Omar aspires to get an internship or summer job to launch his professional career in the region.
Mentorship and tech programmes give further career boost
Omar has also managed to join the Digitalisation Academy and Energy Academy, which are also highly embedded in the higher education institutions in Vaasa. The Digitalisation Academy equips students with necessary technical skills through multiple platforms, offering online courses in various disciplines.
The Energy Academy is a mentoring programme that connects students with mentors from some of the most prominent organisations in the Vaasa region's energy cluster. These include ABB Oy, Danfoss, EnergyVaasa, Hitachi Energy, Technology Center Merinova, Vaasan Sähkö, VASEK and Wärtsilä Finland. Together with their personal mentors, the students get to discuss several topics that help develop their skills and prepare them for the job market.
Light at the end of the tunnel
According to Omar, "these programmes save a lot of time and effort for the students. In Egypt we do not have such programmes, so you only have to learn many things the hard way."
Full of hope and confidence, Omar expressed his enthusiasm to study the Finnish language besides his studies to integrate into the Finnish society and be able to overcome the engineering code barrier in his future workplace.
About Vaasa International Talents
The Vaasa International Talents programme is a joint effort of five higher education institutions in Vaasa to provide international students with tools for working life connections. The project aims to bridge the gap between regional actors and international students.
Launched in 2021, the programme offers participants various possibilities to develop their competencies related to Finnish working life and job searching, as well as to build their networks. This, in turn, supports the aim of getting new connections to working life. We previously told some of their stories through a series of five articles, which you can find in the "Read also" section below.
As of January 2022, Vaasa International Talents is now in its second round, which Omar participates in together with 19 other students from various higher education institutions in Vaasa. The writer of this article, Hagar ElBarbary, is herself an alumna of Vaasa International Talents.