When people think of an "international student" they might automatically envision a very young person who has moved to Finland for the primary reason of getting a university degree. In reality, the umbrella term "international students" encompasses people with very different backgrounds, life situations and experiences of studies and working life.
Harriet Okumu-Nisula's story is inspiring proof of how prior education and work experience, even from a completely different field, can be a huge assets in another context and even in another country.
Harriet's story
Harriet Okumu-Nisula was born in Uganda, a country with many highly educated people and with a lot of women in working life. The country offers numerous investment opportunities, which is why many corporate companies have activities there.
With a Bachelor of Science degree in Botany and Zoology, Harriet began her career as an Assistant Quality Manager in a Korean fish export company. She remembers:
Regular visits from EU inspectors for compliance with ISO standards showed me the importance of observing health & safety regulations. Additionally, fluency in English gave me the opportunity to represent management in industry meetings.
This exposure turned out to be very valuable for Harriet's next career step: insurance business. A university degree from a completely different field was never seen as a problem by her new employer. She got the job because of her dedication and willingness to learn.
Harriet quickly advanced through a series of work tasks such as account handling, program administration, claims handling, marketing and product promotion. She was eventually promoted to Assistant Manager/Executive Assistant to the Board of Directors, Finance Director and the CEO, a position which opened possibilities to work with diverse clients and competitors locally, regionally and internationally.
I managed, amongst others, international oil clients, a particularly demanding client group due to the documentation, equipment and business confidentiality involved.
The way to Finland
On one occasion, Harriet's company hosted a client party in celebration of its 20th anniversary. There, she connected with one particular guest:
One client from a Finnish company, who was on an international assignment in Uganda, thought I was a great host! Little did I know that this was me meeting my future husband.
Eventually, at the point when Harriet had a job that she really loved, great in-house training possibilities and overall bright outlooks regarding her future career development, the moment came in her life when she had to make the decision whether to stay in Uganda or move to Vaasa, Finland.
The latter option won out, even though the decision was all but easy. Harriet was positive about new career opportunities and starting a new chapter in her life in Santa Claus' home country.
Once in Finland and ready to job hunt, Harriet was thinking realistically and prepared not to find a similar job at the same level as that which she had left. However, being a social and talkative person with a broad experience of international business, she expected that it would at least be easy to approach and talk to people in Finland for finding a job, as was the case in Uganda.
Reality hit back: it turned out not to be easy at all. The lack of network was a problem. "You need to know somebody to get a foot in the door of Finnish working life", Harriet says. Eventually, she applied to VAMK University of Applied Sciences to complement her competences with a Finnish bachelor's degree in International Business.
It was through her studies that Harriet learnt about Vaasa International Talents, a joint programme by five higher education institutions in Vaasa to provide international students with tools for working life connections. She decided to apply, as she was hoping that this would help her find connections and eventually land a job.
Pia Jünger is Integration Coordinator at Novia University of Applied Sciences and Project Manager for Vaasa International Talents. A few months into the project, she was looking to hire an intern. Jünger recalls:
We were looking for somebody good at communicating and fluent in English. A short glimpse at Harriet's CV made it very clear that she was perfect for the position.
Transferable skills and the right attitude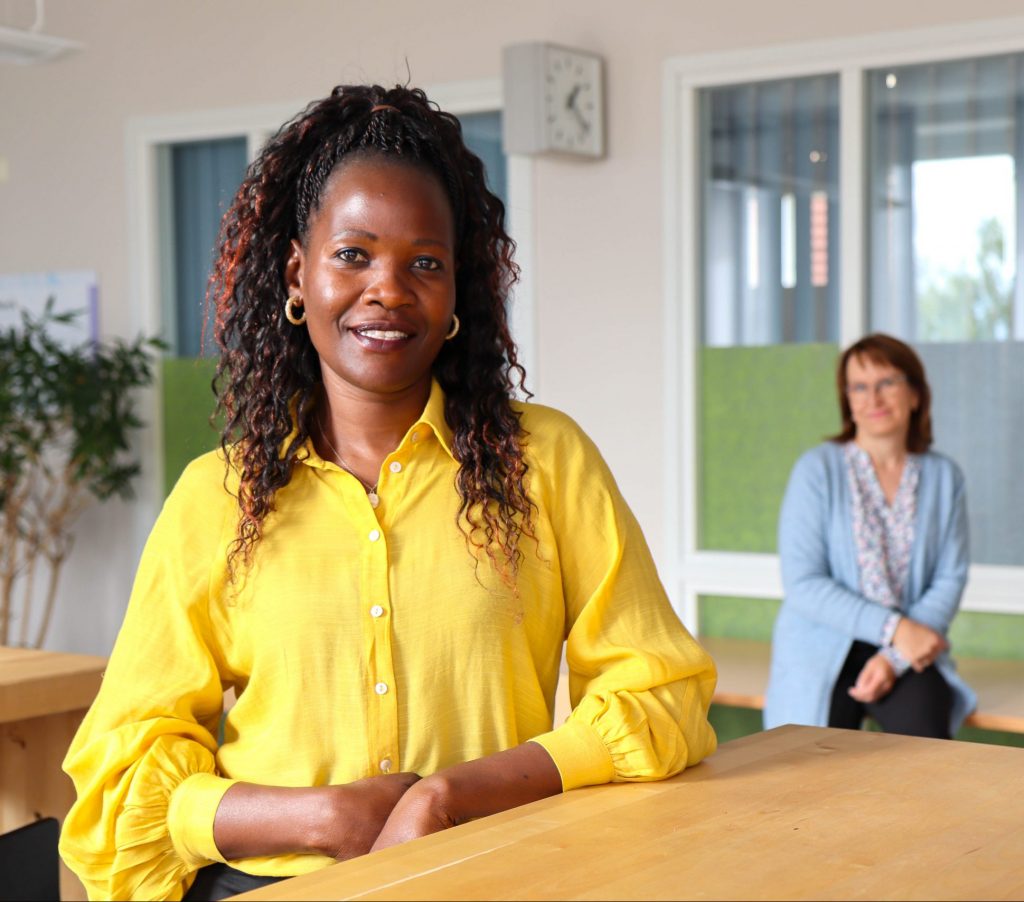 During her internship, each time when a new challenge has come her way, Harriet has showed her readiness and ability to step out of her comfort zone for the sake of developing her professional self. One example is creating a website for the Vaasa International Talents programme.
In addition to her internship duties, Harriet has even cooperated with other projects. She has carried out a livestreamed interview with Visit Vaasa and moderated a livestreamed panel discussion for Talent Coastline. This has both amazed and impressed her colleagues.
"I am pretty sure that many would have hesitated to take on these quite demanding challenges, but not Harriet," Pia Jünger concludes with a smile.
Harriet's previous positions in Uganda have exposed her to situations and challenges which you cannot learn on any courses, regardless of which degree you are studying for. The work in practice teaches you and forms you, and these experiences you carry with you as you go along, changing employers and work tasks.
From an employer's perspective, Harriet's story has proven that a person's formal education on the CV is not necessarily the most important competence even for quite challenging expert tasks. Instead, transferable skills and the right attitude can readily compensate for the lack of business-specific experience.
Vaasa International Talents
Vaasa International Talents is a joint effort of five higher education institutions in Vaasa to provide international students with tools for working life connections. The project aims to bridge the gap between regional actors and international students.
A pilot round was kicked off in March 2021, to which 23 international students were accepted. Through lectures, discussions and other activities, the students are during a period of several months offered various possibilities to develop their competencies related to the Finnish working life and job searching, as well as to build their networks. This, in turn, supports the aim of getting new connections to working life.
This story is the first of a series featuring some of the pilot participants, brought to you by Vaasa International Talents in cooperation with Vaasa International.