Starting 15 August, new flight routes will further connect the Kvarken region. With environmental considerations at the forefront, the new routes are an important step towards creating a functioning regional electric aviation network.
The extensive groundwork and investigations done by the electric aviation project FAIR are yielding results. As of 15 August 2022, two new routes will connect Kokkola-Pietarsaari in Finland with Skellefteå and Umeå in Sweden.
"This measure is a concrete step towards preparing the region for electric aviation," says Robert Lindberg, CEO of Skellefteå Airport.
Driving the green transition
Operated by Jonair airlines, the routes will initially be flown with a 19-seater aircraft. There is a clear environmental strategy, as Mr Lindberg explains:
To start with, we'll offer fossil-free fuel to passengers who want to reduce their climate impact. A complete transition to biofuel is expected as of 2024. A couple of years after that, we hope to operate the route with electric aircraft.
The FAIR project estimates that electric aircraft intended for regional routes will arrive on the market within five years. The Kvarken region is determined to stay ahead of the curve.
"We want to see our region as a pioneering region where we not only talk about the green transition," says Mathias Lindström, Director of the Kvarken Council EGTC and representative of the FAIR project.
Mr Lindström points out that the Kvarken region already has the world's most environmentally friendly ferry, which is powered by both gas and battery solutions and uses locally developed technology.
"Soon we'll also boast the first biofuel-powered flights and, later, cross-border electric aviation that connects the Nordic Battery Belt together," he says.
Calls for increased movement across Kvarken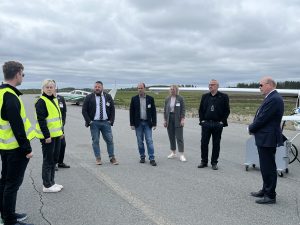 Over the course of the FAIR project, it has become clear that building demand over a long period of time will be necessary in order to gain profitability for a flight route. Well-established routes are seen as important preparation for the introduction of electric aircraft on the market.
Peter Boström, Chairman of the Jakobstad Region Development Company Concordia and Board Member of the Kvarken Council EGTC, encourages regional actors to start using the new flight routes:
Partly to further increase cooperation and to give the routes long-term viability, but also partly so that we can evaluate the electrified short-route network of the future, something that we believe the Kvarken region is in dire need of.
These ideas have traction on both sides of the Gulf of Bothnia.
"The Kvarken region and the Nordic countries are on the brink of an enormous change due to historically large industrial investments," says Evelina Fahlesson, Municipal Commissioner of Skellefteå Municipality.
Ms Fahlesson thinks that this development will increase the demand for connectivity.
"A functional and regional electric flight network can help meet a part of this demand," she says.
Stig-Göran Forsman, CEO of FAB Kronoby Flyghangar, concurs:
It's impossible to improve connectivity without regional airports. Closing down smaller airports would today be counterproductive because we know that electric aviation will revolutionize flying and create new flight routes.
Bookings are open
Starting 15 August 2022, the flights will initially take place on Mondays and Tuesdays. The route crosses Kvarken several times, going Umeå – Kokkola – Skellefteå – Kokkola – Umeå.
Flights are already available for booking at www.jonair.se. Prices start at 47 EUR for a one-way ticket.

FAIR is a two-year project to support the early and efficient commercialization of electric regional flights in the Kvarken region.
The Kvarken Council operates in the Kvarken region, which is comprised of the three Ostrobothnian counties in Finland and the counties of Västerbotten and Västernorrland in Sweden. The Kvarken Council's members consist of municipalities, regional councils, development companies, and other organizations from all over the region.