On EnergyWeek's third morning, the audience of the FAIR Electric Aviation event learned that electric aviation is not a technology of the distant future but is in fact happening today.
FAIR is a two-year project funded by the Interreg Botnia-Atlantica programme to support the early and efficient commercialization of electric regional flights in the Kvarken region. Moderated by Logistics Expert and Project Manager Anna Måtts-Fransén from VASEK, the FAIR team presented the latest developments of Kvarken electric aviation.
Prototypes trigger us to imagine the future
Jeroen Peeters, Senior Design Researcher at RISE (Research Institutes of Sweden), started the event by presenting two prototypes created for the FAIR project:
The Volta app, which shows what booking on-demand regional airfare could look like in a near future (spoiler: there are no schedules);
A FAIR soundscape, which takes the listener on a sound journey on an electric flight from Lycksele to Vaasa.
Peeters said that prototypes like these jog our minds to imagine different futures:
We believe it is important to trigger creativity to try to reimagine what the future could be like. To see the potential of electric aviation for regional development means to reconsider all aspects of a full system. One way to do it is to create different designs to spur some discussion and redefine what people really want.
Peeters was followed by Lars Westin, Professor in Regional Economics at Umeå University, who explained that regional aviation has been ongoing in the Kvarken region since the 1960s. However, due to increased centralization from the 1990s onwards, air traffic has been concentrated to larger hubs. Professor Westin called for policy changes and infrastructure to make regional aviation profitable for new, smaller actors.
Low-climate impact thanks to the Nordic energy mix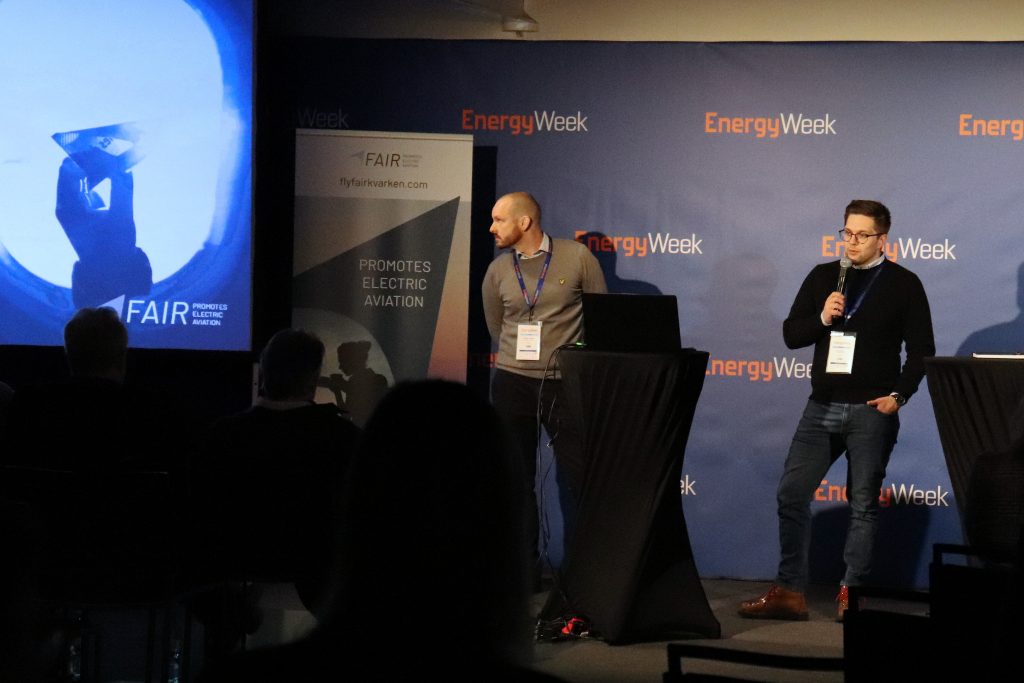 Isak Brändström, Strategy Consultant, and Andreas Forsgren, Head of Department at Tyréns Sverige AB, said that the Kvarken region shows great potential for becoming a forerunner in electric aviation, as there truly is a need for good transport connections in the region, especially when considering the growing battery collaborations.
Due to natural barriers, such as the sea and the mountains, aviation travel can be up to four times faster than travel by car in the Kvarken region. Brändström also noted that continuous investment in low-carbon energy production benefits the region in terms of electric aviation:
"With the Nordic energy mix, compared to the EU average, we have a really low-climate impact for the whole lifecycle of an electric aircraft. It is close to the climate impact of trains," he said.
It is close to the climate impact of trains.
Assistant Professor Antti Mäenpää at the University of Vaasa similarly noted that there is a call for electric aviation in the Kvarken region. He said that it could also become a future local industry, in terms of both new products (i.e. components) and new services (i.e. travelling opportunities).
Arne Smedberg, CEO of BioFuel Region, turned the focus to some of the technical aspects that still need to be worked out at airports in order to support electric aviation. These include, for instance, standardized and fast charging options, which allow operators to work within airport turnaround times.
Everybody wants change, but nobody wants to change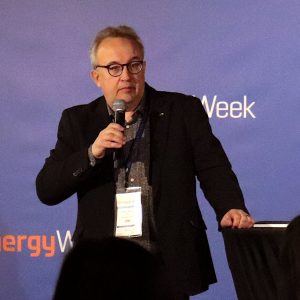 The last speaker of the FAIR event was Skellefteå Airport CEO Robert Lindberg, who challenged the audience not to gaze too far into the future but to see electric aviation as a reality today.
Skellefteå airport became the first fossil-free airport in the world in 2020, and it already has three electric aircraft that are up and running, taking on passengers right now. Lindberg sees that changes can, and should, be made here and now:
Electric aviation is not a project; it is a change of society. We need to do something about the climate. Everybody wants change, but nobody wants to change. It's you and me that must do it, not somebody else. The future is here now.
The live stream recording of the event can be watched here: