Having trouble finding a job in Finland, Reuben Odotei wondered for years if something was wrong with him, if he wasn't good enough. We dive into his challenging yet motivating journey.
Reuben Odotei is a calm yet enthusiastic young man with humble beginnings from Kumasi, the capital of the Ashanti Region in Ghana, a particularly important and historical centre. The country hosts approximately 32 million inhabitants and has about 50 local languages. The official language for both work and study is English.
In January 2011, Reuben moved to Vaasa, Finland to pursue business studies.
Getting a scholarship in Finland
Before his big move, Reuben was undertaking a Higher National Diploma in Accounting at Accra Polytechnic (now Accra Technical University) in Ghana. During his final year of study in 2010, he stumbled across a notice on their school board about a Finnish company called Wärtsilä that wanted to expand operations in Ghana.
With zero knowledge about Wärtsilä at the time, Reuben learnt that the company was offering scholarships in cooperation with Accra Polytechnic and VAMK University of Applied Sciences. The aim was to get students to Vaasa, to train and hire them for Wärtsilä's expansion projects in Africa. A total of twelve students, eight in engineering and four in business, were selected for the scholarship programme.
Reuben's arrival in Finland was quite challenging in terms of the harsh winters and the different culture compared to his home country. Nonetheless, he quickly settled in and adapted to the weather patterns, culture and systems. He focused on the goal of his move: completing his Bachelor's degree in International Business at VAMK.
Throughout his study years, not all went as smoothly for Reuben as for his Ghanaian classmates that had moved to Finland with him.
"The engineering students had an advantage, as they were already able to start training at Wärtsilä during their first year at VAMK," he recalls.
Nevertheless, Reuben was happy for their successes and kept a positive attitude while working towards his dream.
Troubled by language requirements and a lack of connections
After graduating from VAMK, Reuben struggled with finding a job. He recalls applying for over 70 positions, including 25 openings at Wärtsilä. However, none of his applications led to any offers.
The continued rejections felt like a tragedy for Reuben. He attributed them to his lack of Finnish language skills, limited professional connections and the lack of a clear focus.
"I was emotionally and psychologically affected. I felt like I wasn't good enough, like something was wrong with me," he says.
Reuben finally settled for a cleaning job, which included cleaning the premises of Wärtsilä. He did this job for several years, yet while he had a foot in at Wärtsilä, his cleaning role did not present him with any leads to the company.  Nonetheless, he added these experiences to his learning curve and continued with his job search, trying to find a solution.
Becoming an exceptional job seeker
Three years ago, Reuben decided to take a different approach to job-hunting. He wanted to change the stereotypical mindset associated with the difficulty of finding a job, especially for international business graduates. He also aimed to convert the emotional experiences of his numerous job rejections, what he calls tragedies, into strategies.
Together with Lukumanu Iddrisu, a very close and influential friend of mine, we decided to change the narrative and try something else – to shift from being an average job seeker to an exceptional job seeker.
Reuben started applying for jobs again, with a new twist. Rather than losing sleep over negative automatic replies, he chose to follow up on them by asking questions about why he got rejected. Even though he did not have a strong command of Finnish, a common requirement in job adverts in Finland, Reuben believed that he would learn on the job.
Unfortunately, not everybody is good with languages. Also, after learning a new language, you need a platform to practice before you can be great at it.
To develop professionally, Reuben used not one or two but a combination of methods. He decided to further his studies by doing a Master's degree in General Management at Hanken School of Economics. In parallel with his studies, he also joined Vaasa International Talents, a programme that equips international bachelor's and master's students with tools and possibilities for Finnish working life.
Now an alumnus of the programme, Reuben says that he has nothing but great memories.
Vaasa International Talents was a great platform. I learnt a lot from the lectures and coaching sessions, such as the benefits of volunteering, networking both through LinkedIn and in person, as well as gaining visibility and publicity through the programme.
Finding out his strengths
Reuben eventually realised that he was strong at networking and should capitalise on it. In his opinion, networking is a reality one cannot escape. He participated in various events held by the higher education institutions, the City of Vaasa and the TE Office. He also volunteered for a political campaign in Vaasa during the 2021 municipal elections.
In November 2021, he joined the Smart Technology Hub Ecosystem Challenge (STHEC) organised by Wärtsilä in collaboration with its partner companies as part of the Energy Academy collaboration. Reuben's team won an honorary award.
Participation in the STHEC gave Reuben the benefit of having his resume reviewed by the line managers of various positions at Wärtsilä.
"The feedback was very valuable – I modified my CV accordingly," he says.
This experience was very rewarding for Reuben. Not only was he motivated, but it also gave him focus.
From a wide range to a narrow focus in search of his dream job
After graduating from VAMK, Reuben had been sending applications to several companies. He now decided to focus entirely on getting a job at Wärtsilä.
After all, this was how my road to Finland started! I began following the job openings at Wärtsilä, and when I met even some of the requirements, I applied and reached out directly to the line managers through LinkedIn or email.
While waiting for his responses, Reuben made an extra effort to navigate the company's website and used LinkedIn Learning to familiarise himself with the requirements he didn't meet. These included specific software used at Wärtsilä, such as SAP Material Management and SAP Accounts Payable.
The certified online courses gave Reuben more qualifications to add to his CV, improving his chances at employment.
The juicy part
Reuben's tireless efforts ultimately paid off. Not only was he invited to face-to-face interviews, but he got several job offers from Wärtsilä for equally competitive positions in supply chain and project management, among others.
Reuben found it remarkable how he could go from applying unsuccessfully to Wärtsilä over 20 times in the past to now receiving a bunch of interview invitations after only applying to two positions. He attributed this partly to his participation in the STH Ecosystem Challenge, which was on his CV.
"Every line manager who interviewed me referred to the challenge," he notes.
From being rejected to having to turn down job offers
Only ten minutes after an interview, a line manager called Reuben to offer him a job. Moreover, he was a potential candidate for more than three trainee positions.
As one can only imagine, Reuben was shocked. He vividly recalls a comment from one of the line managers; "You have made it a competition for us!" It was an incredible moment for him, after putting so much effort into his job-hunting.
He was very grateful for all the considerations, but regrettably, he could accept only one position.
Choosing a job at Wärtsilä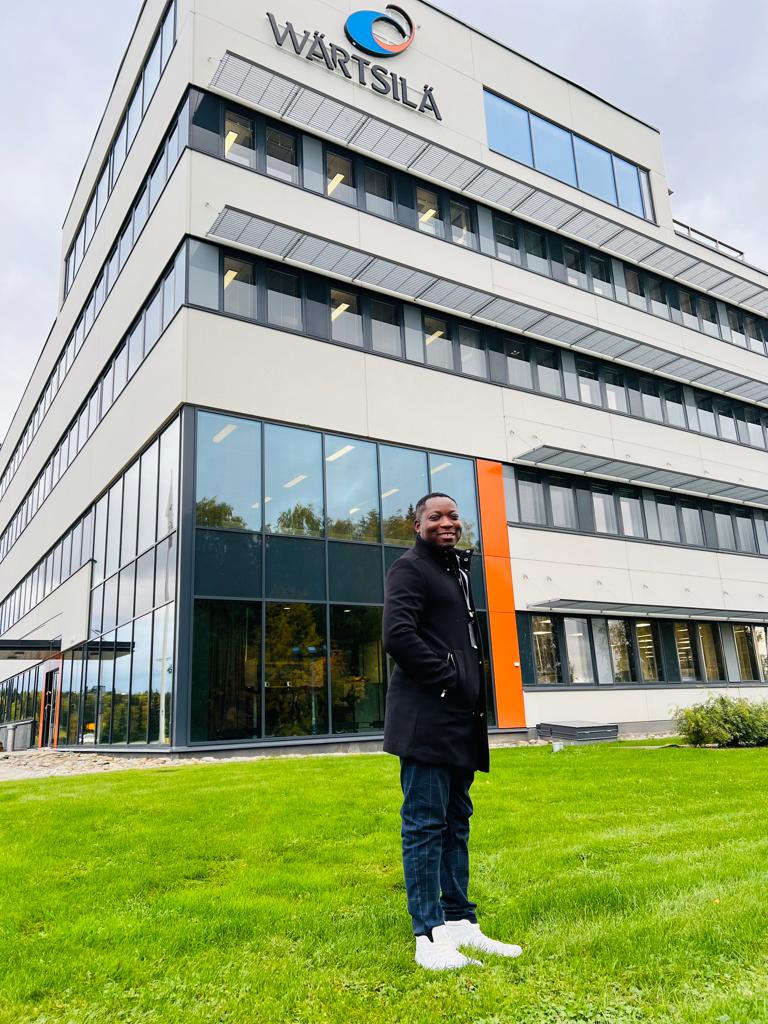 As of this interview, Reuben works as a Delivery Coordinator Trainee at Wärtsilä, learning various angles and aspects of the company's businesses. His accounting skills acquired in Ghana have not gone unnoticed, as part of his role in the supply chain involves accounting and finance coordination. He operates globally with English as his working language, attending to clients in Asia, the Americas, Europe and Africa.
Despite using English in his client communications, Reuben says that he will continue practising his Finnish language skills both inside and outside the organisation.
In parallel with his trainee position at Wärtsilä, Reuben is in his final year at Hanken School of Economics. He plans to graduate in May 2023 with a Master's degree in General Management.