Adriana de la Garza Musi has settled in Vaasa and found a job that she enjoys. How did her industrial management degree from the University of Vaasa help her land that job and why she has no plans to leave Vaasa? Read on!
After doing a bachelor's degree in industrial engineering in her home country Mexico, Adriana was looking for a place to study in Europe together with her partner. They wanted to study in English and improve their language skills at the same time, so she was looking for universities with scholarships and master's programmes taught in English.
A programme with the right combination of engineering and business
The Master's Programme in Industrial Management at the University of Vaasa got Adriana excited, as it brought together her engineering background with the business and management areas that she wished to focus on.
Adriana got a scholarship and completed her master's degree in two years. First year, the tuition fee was covered by the scholarship, and for the second year, she paid half the price.
I've felt welcome since my first day here, and the international tutors from the university were beyond amazing as they helped me settle in.
During her studies, Adriana also met a lot of international students and exchange students and now has a great network of friends around the world.
Found jobs and their place here
Adriana and her partner have both found jobs that they enjoy, and they have no plans to leave Vaasa. They have built a life to their own liking here – both in terms of work and free time.
Just before graduating, Adriana got a summer trainee position at Wärtsilä, an international engineering company and a major player in the Nordic energy technology hub, EnergyVaasa.
I got an interview thanks to my master's studies at the University of Vaasa, where the Industrial Management programme includes courses in supply chain management and logistics.
After her traineeship, Adriana landed a permanent position as a Delivery Coordinator in the same team.
The team is definitely one of the best things about my job. They are all kind, supportive, and fun.
In only a year, Adriana's responsibilities have increased considerably.
I find my work very interesting and it's never boring. There's always something new to learn, which constantly challenges me in a good way.
Studying at a university in English gave Adriana the language skills she was hoping for and also confidence that has helped her in her career.
My studies helped me become confident at work and in life in general. I feel confident when expressing my opinions either in meetings or via emails or chat.
Building a life and career in Vaasa, Finland
Vaasa and Finland in general are very safe.
Finland has solid social structures. The Nordics and the Finnish society feel very secure. I can walk alone anywhere and still feel safe.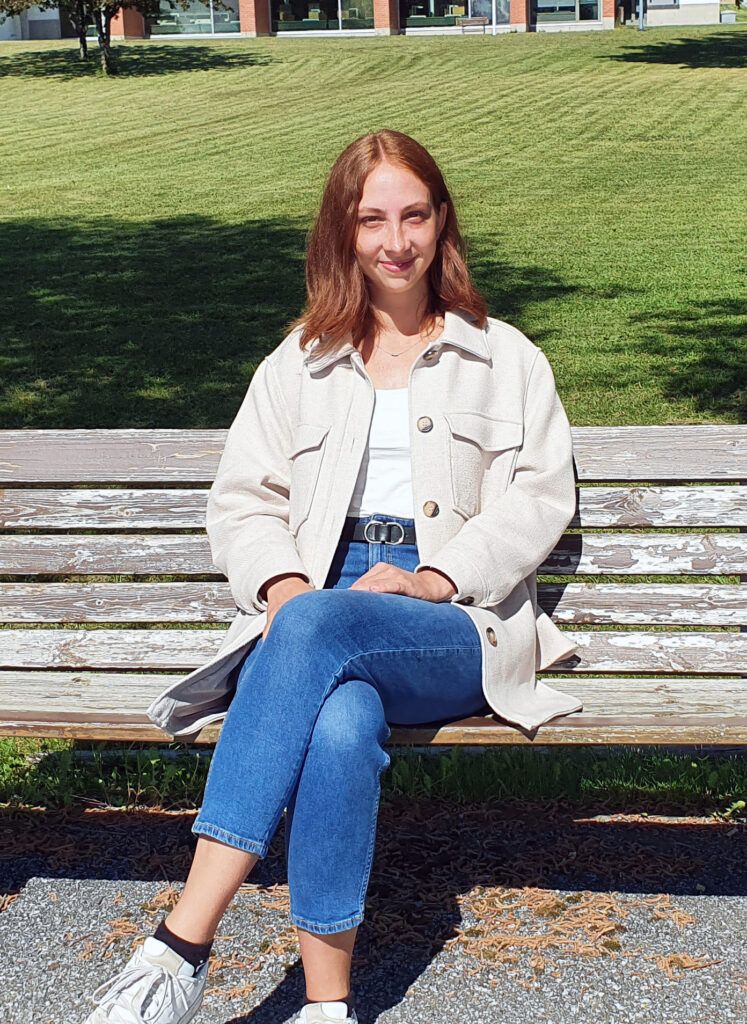 Adriana enjoys Finnish nature and the four seasons and is now even an active ice swimmer. The size of the city of Vaasa is also "just right", and Adriana likes that she can get everywhere with her bike.
I love that I can take a short walk from the city to the forest.
There are a lot of activities to do in Vaasa. Adriana especially recommends the affordable courses at the Adult Education Centre to try new hobbies and meet people. She has also found the services of the city of Vaasa very good.
Adriana admits that learning Finnish can be a struggle, but she has come to notice that in Finland you can manage with English everywhere, so there is no need to worry about that.
Of course, settling in may at first feel difficult, but it gets better as you go – and you can find your place here.
Adriana's advice to new international students:
In Vaasa, you can get by with English in your daily life, like talking to the cashiers when getting groceries.
Enjoy Finnish nature and the four seasons.
You survive the dark winter days better when you don't fight the drop in energy and just sleep more.
Find hobbies and get to know people – and you will find your place in society.