As the Industrial Internet of Things (IIoT), cloud computing, and machine learning continue to revolutionise the way businesses operate and communicate, the demand for skilled IT professionals rises. Åbo Akademi University (ÅAU) is now proud to offer a comprehensive and highly relevant international master's degree programme in computer engineering in Vaasa; providing the expertise needed to succeed in these rapidly evolving fields.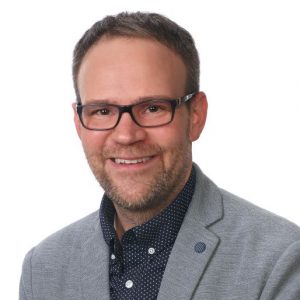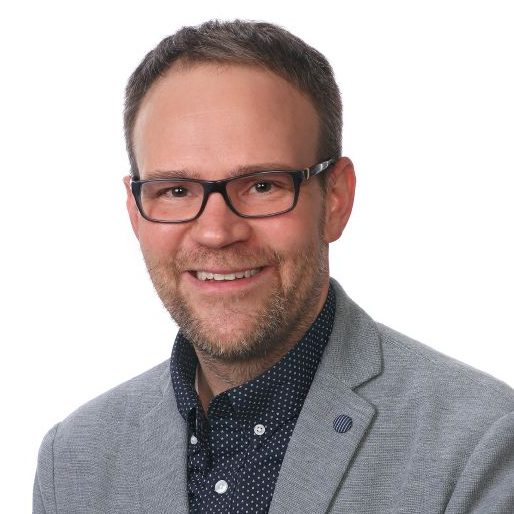 Andreas Lundell, Docent and Senior University Lecturer at the Faculty of Science and Engineering, says that the IT master's programme has been offered since 2021 in Swedish.
Beginning next year, we will also offer this computer engineering programme in English in Vaasa. This means that students do not need to have any knowledge of Swedish to enroll and begin studying.
Developed with industry standards in mind, this two-year programme aims to equip students with a solid understanding of computation, communication, and data management in the context of our fast-changing society.
This programme is ideal for individuals looking to advance their careers and stay up-to-date with the latest trends and technologies in the industry. It will be a complement to the traditional master's programmes in IT given by ÅAU in Vaasa and Turku.
Andreas Lundell says that the master's degree programme in information technology is especially relevant for recent graduates or those in the final stages of their studies at a university of applied sciences. He also welcomes applicants who have worked in the field for a few years and are seeking to gain advanced competence.
One field of IT – different focus areas
Students of the master's degree programme in information technology at ÅAU are given the choice to specialise in one of two areas;
Computer Science (available in Turku) or
Computer Engineering (available in Vaasa and Turku)
Computer science is focused on designing and developing software, algorithms, and computer systems, while computer engineering also involves integrating computer hardware and software systems.
Andreas Lundell specifically highlights the computer engineering specialization in Vaasa with its emphasis on cloud computing, industrial internet, and safety-critical autonomous systems. Computer engineering looks at the combination of hardware and software and is therefore highly relevant to the needs of the industry in Ostrobothnia.
Great prospects for aspiring tech professionals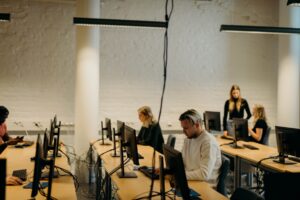 A master's degree in information technology can be a good option for those looking to transition into the field from a different career, or for those who already have a bachelor's degree in a related field but want to specialize in computer science or engineering.
"A master's degree in information technology can also provide a solid foundation for those interested in pursuing a doctoral degree, for example in collaboration with industrial partners," says Andreas Lundell.
Lundell also notes that the faculty members actively engage in research, ensuring that students receive the most current and comprehensive education possible as well as access to relevant research projects.
Cross-technology studies prepare students for work in the energy sector
Thinking about prospects, Lundell emphasises the unique collaboration between the IT programme and the energy technology programme in Vaasa – making cross-technical studies possible.
Our students can take individual courses or course modules in energy technology if they want to. Since the energy cluster's operations are continuously increasing and possible establishments are coming up within the battery industry, this is a nice addition for students intending to pursue their careers in the region.
Working together for a sustainable future
Åbo Akademi University cooperates with other actors in Vaasa to provide opportunities for their students within the energy sector. One way this happens is through the Energy Academy network, a cooperation model between universities and leading companies in the energy sector in the Vaasa region.
Lundell also takes the opportunity to share some exciting news:
IT at ÅAU, together with the University of Vaasa and the Universities of Applied Sciences Novia and VAMK, recently received funding from the Academy of Finland to build a research infrastructure on climate-neutral data centers in Vaasa. The data center will be located in the research and development laboratory Technobothnia.
Named the Wasa Zero Emission Data Center (WSTAR), the infrastructure will enable research on climate-neutral data centers in close cooperation with the energy industry.
The approval of this project is a good indicator of the university's relevance and value in the field of information technology, especially in connection to the energy sector in Vaasa. Projects like this strengthen the network and provide students with even more valuable practical knowledge.
The WSTAR project aims to contribute to the EU's goal of climate-neutral data centers by 2030, making the IT studies at ÅAU particularly special for all involved.
Study information technology at ÅAU
The application for the master's programme in IT starts on January 4 and ends on January 18. Åbo Akademi University offers 40 study places.
Get a relevant master's degree with excellence in industrial internet and cloud technology
Great flexibility in studies, which can largely be carried out alongside full- or part-time jobs
Opportunity for networking with companies in the region
Depending on their chosen area of specialization, students will graduate with a Master of Science degree in Computer Science (Turku), or a Master of Science (Technology) degree in Computer Engineering with a specialization in Software Engineering (Vaasa and Turku).
Scope: 120 ECTS / 2 years
City: Vaasa, Turku
Language: English
Apply time: Jan 4 – Jan 18, 2023