VEO is a prominent company in Vaasa's energy cluster, delivering electrical components and solutions for the energy and process industries both locally and internationally. Growing rapidly, the company is continuously looking for knowledgeable staff to support its growth.
Thanks to our sponsor:
To date, VEO has completed over 10,000 projects and delivered solutions to 132 different countries. The size and scope of its projects is only growing as the world is getting smaller.
"With the right know-how, you can now work from almost anywhere," says Visa Yliluoma, Executive VP in Sales and Marketing at VEO.
Visa Yliluoma has worked at VEO for over 20 years. He has stayed because he enjoys the flexibility at the company, allowing him to undertake a large variety of tasks and responsibilities.
"VEO provides a lot of opportunities for professional development," he says.
Long work careers are the norm
Many of VEO's employees have been with the company for a long time, precisely due to the wide variety of tasks and roles. Viktor Forss has worked for the company for over 15 years, starting his career as a project engineer in 2006 and working his way up to Managing Director of VEO's Norwegian subsidiary VEO AS.
Forss has also supported efforts to integrate the company in Sweden, where VEO acquired a subsidiary a few years ago. As of December 1st, Viktor Forss is appointed Vice President Nordics, a role in which he will continue to expand VEO's business in Norway as well lead and grow operations in Sweden.
We have a flexible arrangement where our various offices across the field use their resources to support each other. We really see the benefit of working cross Nordics in all our business segments.
Prospering as a challenger
VEO currently has about 485 employees, classifying as a large company by Finnish standards. However, compared to some of its competitors with tens or hundreds of thousands of employees, VEO is still rather small.
While being smaller allows VEO to act quickly, it often places the company in an underdog position. Viktor Forss enjoys this challenge.
I especially like being able to implement Ostrobothnian entrepreneurship at work. With innovative solutions, we can undertake even large projects.
Visa Yliluoma agrees.
"Power and responsibility are truly available for those who want them," he says.
"Still, no one has to know everything, and there are also great opportunities available for those who want to carve out a niche for themselves in a specific area," Viktor Forss adds.
How VEO works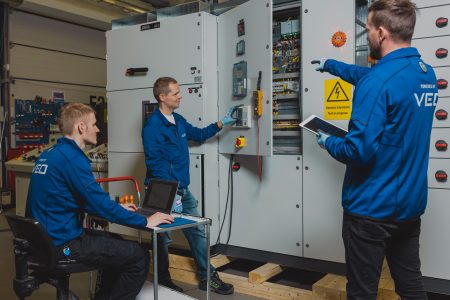 VEO can be described as a project house, as an "integrator for the energy sector". In practical terms, this means that the company creates electrification and automation solutions to fit the needs of its customers.
VEO's solutions can be found in the manufacturing industry, in power plants and in data centres, to name a few. Renewable energy and hybrid technology are both growing business areas.
In Norway, in particular, the company has recently worked on several large wind power projects.
"It has been challenging during the COVID crisis, but we have kept our timetables and been able to move people around safely," Visa Yliluoma says.
A great place to work
Mats Warg has worked at VEO for over 20 years and currently serves as Director of Automation. When asked why he has stayed so long, Warg says:
The main reason is our great working community. Automation as an area is also very interesting, with rapidly developing technologies and a lot going on especially in cybersecurity and IT.
Warg's colleague Johnny Huynh is new at VEO, working as a systems engineer in hydropower.
"It's a fun job, as the company is full of very skilled people, and you can learn a lot just by asking questions," Johnny Huynh says.
Johnny Huynh did his final thesis working with VEO. Gaining a foothold with the company in this manner is not uncommon. In 2020, around 30 thesis works were made for and about VEO.
VEO has a close collaboration with the educational institutions in Vaasa, such as Novia UAS, VAMK and the University of Vaasa.
International career opportunities
One key reason why Johnny Huynh chose VEO is that there are many international job opportunities.
VEO's headquarters are in Vaasa, along with its important switchgear factory, but the company has projects around the world. The company has several offices elsewhere in Finland as well as in Sweden, Norway and the UK.
Piia Tuliniemi is HR Director of the VEO Group, having joined the company around the start of the COVID-19 pandemic. She says:
Despite the challenges in starting at that time, I received a good welcome and immediately felt that this is a house full of experts who are proud of their know-how.
VEO's customers include large multinational corporations as well as cities and municipalities around the world.
"This certainly contributes to the very international feeling and character that is present at VEO," Piia Tuliniemi says.
Hiring right now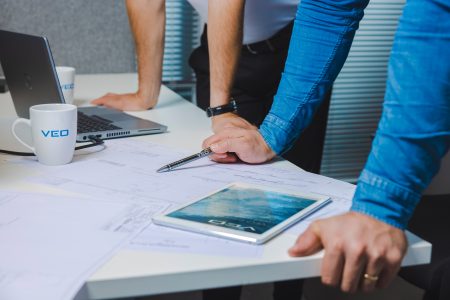 Leena Jungner was appointed HR Business Partner in May. Her duties include supporting staff and management to reach business goals, serving as a link between employer and employees.
VEO is steadily growing and is in great need of skilled labour. With varying demands on the workforce, the company actively invests in staff training.
"We need electrical engineers, lead engineers and project managers but also occasionally people to strengthen our support functions such as HR and accounting," Leena Jungner says.
Open positions in Vaasa as well as in other parts of Finland and abroad can be found on VEO's website at career.veo.fi.
"We also continually accept open applications to connect with rising stars," Visa Yliluoma says.