The number of international students at Novia University of Applied Sciences is increasing. "Integration is a priority," says President Örjan Andersson.
Novia University of Applied Sciences has always been open to international cooperation and foreign exchange students. This is now more true than ever.
"However, the emphasis has shifted a little in recent years, and we now focus even more on integrating our students into Finnish society," says Örjan Andersson, President of Novia.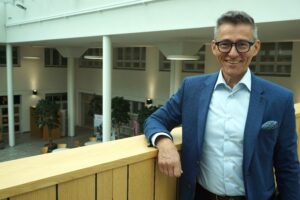 Presently, over 4500 students are getting their education at Novia, divided between five campuses in Vaasa, Jakobstad, Turku, and Raseborg. In 2020, about 8% were international students, which increased to 10% in 2021.
"Enrolling more international students is a desirable development that we are continuously working on," says Örjan Andersson.
Nurses, engineers, and sea captains
In Swedish, Novia offers a wide range of education in many different fields. In English, the university has chosen to focus on a couple of areas where they can make the most impact.
In Vaasa, the international degree programme Bachelor of Health Care, Nursing has garnered a lot of attention. The Bachelor of Health Care, Biomedical Laboratory Science programme is also offered in Vaasa for the first time. With healthcare professionals being some of the most in-demand jobs in Finland, attracting international students to this field is very important.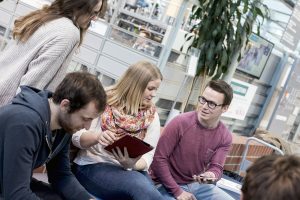 Besides health and welfare, Novia in Vaasa also offers international programmes in technology and in business administration. In 2022 the university started a Bachelor of Engineering, Energy Technology programme to fuel the Vaasa region's powerful energy cluster. New in 2023 is the Bachelor of Engineering, Information Technology programme.
In Turku, a city well known for its maritime history, Novia educates seafaring experts, such as captains and engineers. The university also offers, for example, culture and arts programmes in Jakobstad and bioeconomy – Bachelor of Natural Resources, Sustainable Coastal Management – in Raseborg.
Integration more important than ever
With traditions dating back to 1813, Novia UAS has always been open to international influences. According to President Örjan Andersson, internationalisation at Novia has in recent years become more tied to the growing need for a well-educated workforce. Finland, and perhaps Ostrobothnia in particular, has a lot of jobs to offer now and even more in the future.
To meet the demand for more international workers, Novia has chosen to take an active role in integrating students into Finnish society and work life and helping them thrive here.
"We cannot do everything, but with the cooperation of companies and the rest of the society we can offer a lot," says Örjan Andersson.
The next round of applications is 4-18 January 2023.
Read more about the available degree programmes on Novia's website.