A seminar held on the second day of EnergyWeek in Vaasa delved into the pressing issue of how to create and maintain a business culture based on circular economy in Ostrobothnia. "Now is the time to get excited about circular economy," said speaker Göran Östberg.
The seminar attempted to address what companies in Ostrobothnia must do today and tomorrow to remain competitive and emerge as leaders in the field of sustainability. With Finland's target to be carbon neutral by 2035, many eyes are on Ostrobothnia, which has been making significant strides in this direction.
It is a make-or-break situation for companies in the region, and the seminar aimed to provide some much-needed guidance to help them navigate this complex terrain. The urgency of this issue cannot be overstated, as the world is moving at an unprecedented pace towards a green transition and fossil-free energy.
Important to stay positive to succeed
The meeting hall of Vaasa City Hall was packed, filling up all seats. Göran Östberg, who retires next week from his job as Project Manager at Vaasa Region Development Company VASEK, opened the seminar.
Circular economy wasn't a thing five years ago, it was a black hole. Now the focus is huge. The speed of global warming is really fast and the clock is ticking.
Hanna Malkamäki, Östberg's successor as project manager for circular projects and sustainability in the region, added:
We need to find ways to be more circular now. Finland has set tough goals, but we need to stay positive and confident that we can reach them.
Co-creating circular solutions to global challenges
The seminar welcomed two speakers from countries eager to work together with Finland to reach our ambitious yet daunting goals. The Netherlands is on its way to a waste-free circular economy in 2050 and is happy to assist Finland.
H.E. Govert Jan Bijl de Vroe, Ambassador of the Netherlands to Finland, noted that Finland and the Netherlands are already collaborating, with know-how flowing back and forth.
"Together we can make a global impact, drive change and create innovation," he said.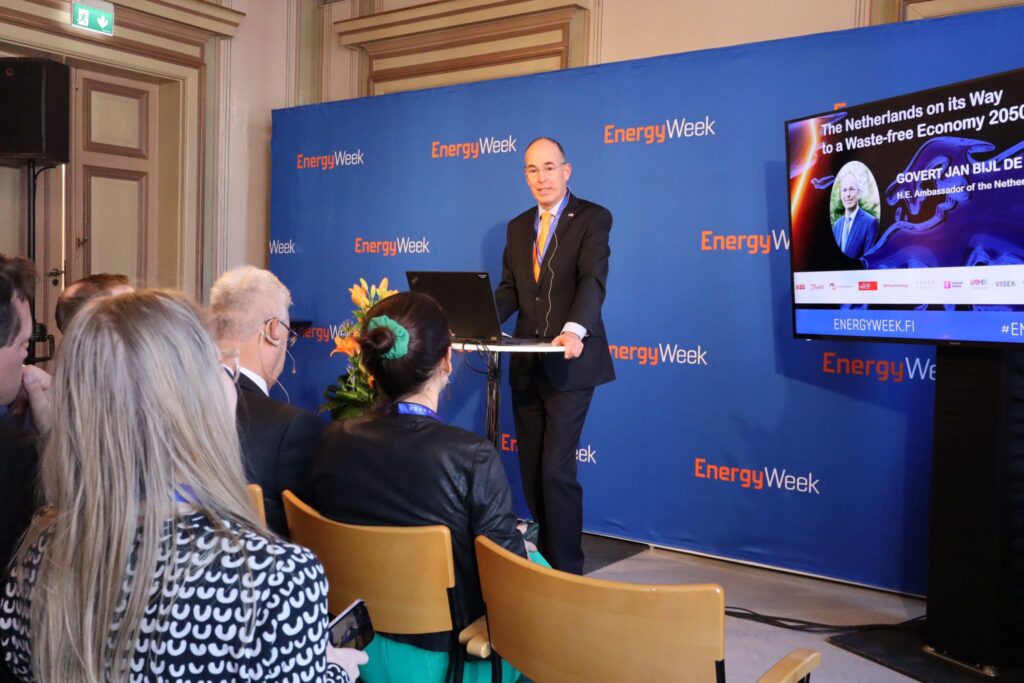 A critical issue is to become less dependent of the supply of critical raw materials and replace them with circular solutions. This is especially important today considering the war in Ukraine. The more we can make use of existing components the better, from outdated consumer goods to outworn buildings.
Ambassador Bijl de Vroe emphasised the need to work towards creating circular cities with circular infrastructure.
Reusing materials will have a massive impact, and especially the construction sector has a huge potential for circular solutions. For example copper, aluminium, and steel can be reused when old pipelines are replaced.
Chile seeks alliances
H.E. Mrs Belén Constanza Sapag Muñoz de la Peña, Ambassador of Chile to Finland, stated the fact that energy needs to be applied correctly.
Chile has a lot to offer Finland, even if our countries are far apart. Collaboration is essential and we are seeking alliances. Chile is a country with abundant renewable resources; a 6000 km coastline with sun, wind and waves.
The ambassador noted that what Chile needs as a top-notch country for renewables is know-how and new ideas.
"Our universities are eager to hear and listen," she said.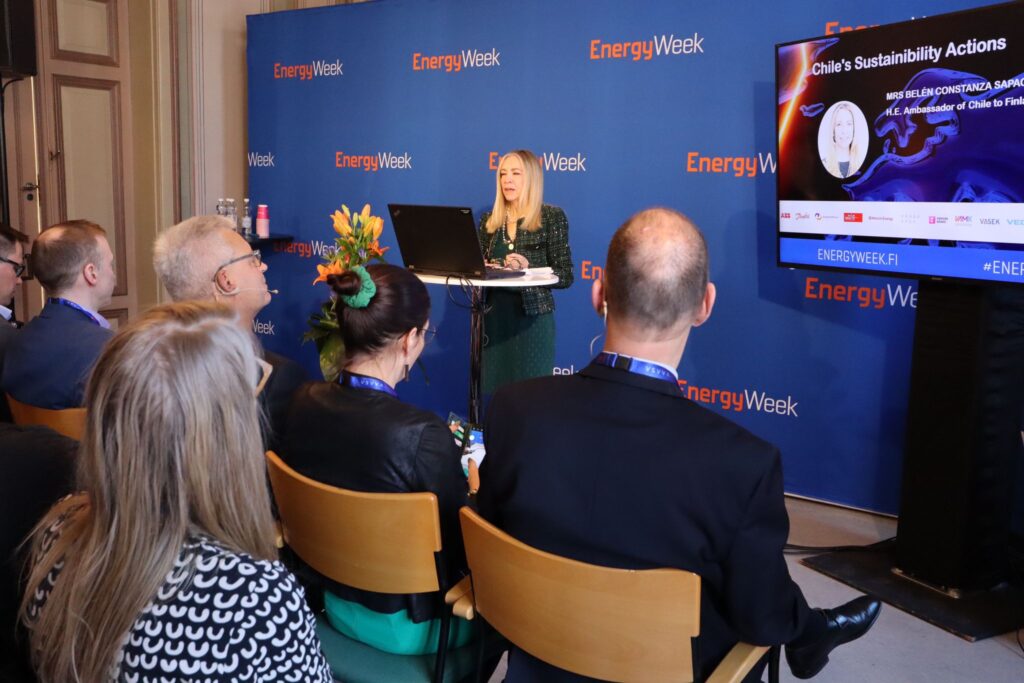 "Sustainability work pays off"
Kim Råholm, Development and HSEQ Director at VEO, shared with the audience a comprehensive list of sustainable initiatives that have been implemented throughout the organization.
"VEO wants to be a forerunner in our operations, working together with our customers and suppliers to decrease global warming in a safe way," he said.
VEO has increasingly engaged itself in hydrogen and solar projects. However, a major hurdle faced by the company has been obtaining comprehensive upstream and downstream data necessary for accurate carbon footprint calculations. In addition, transitioning to sustainable production methods often requires significant investments, which can be costly.
The question remains, are we willing to bear these additional costs? From Kim Råholm, the answer was an unambiguous yes.
We are confident that sustainability work pays off and we will get competitive advantages from it. Together we can speed up the energy transition, if not for us, then for the coming generations.