The Ostrobothnia Chamber of Commerce's Autumn Forum approached current issues in both depth and breadth. Cyber threats, cyber security and Ukraine were foremost on the agenda.
Olga Dibrova, the ambassador of Ukraine to Finland, was a keynote speaker at the Ostrobothnia Chamber of Commerce autumn forum held in Jakobstad last Thursday. In her touching opening speech, Ambassador Dibrova highlighted that what Ukraine, Europe and the world now need are unity, solidarity and resilience.
"We would also like to thank Ostrobothnian companies for the solidarity they have already shown in their actions to help Ukraine," she said.
The next stage of the war
Olga Dibrova tells an emotional story about the ongoing war, how much has been destroyed and how many people have died.
"Unfortunately, the numbers keep rising," she says, continuing to state that Ukraine's energy infrastructure is now under attack.
We need aid with all kinds of energy equipment, such as generators and substations, as well as any other solutions that companies can offer to help the people of Ukraine survive the winter.
Opportunities for cooperation
Olga Dibrova still dares to believe in a quick end to the war. Looking ahead, she says that there is already a ten-year plan to rebuild the country. The ambassador talks about the opportunities that this will create.
"Finland could have a natural role, for example, in rebuilding and reforming Ukraine's education system," she says. Ambassador Dibrova notes that she has visited several Finnish schools and been impressed by what she has seen.
Finland has a fresh and effective approach to education, but this is quite unknown internationally. Cooperating with Ukraine could make Finland famous.
The green transformation is another area where Dibrova thinks that cooperation has clear benefits.
Cyber threats are everywhere
Cyber security was the second focus area of the autumn forum. According to Ambassador Dibrova, this is a crucial area ripe for international cooperation.
Ukraine has vast experience in handling cyber threats. Our own IT army is currently fighting the same war as the one waged on the battlefields. Finland also has interesting technology in this area.
Companies in Ostrobothnia are not exempt from cyber threats. According to Paula Erkkilä, CEO of the Ostrobothnia Chamber of Commerce,
There are only two kinds of companies: those that have faced cyber attacks and those that haven't – yet. There might also be a grey area in between with companies that have been attacked but don't even know about it.
Fake news and online manipulation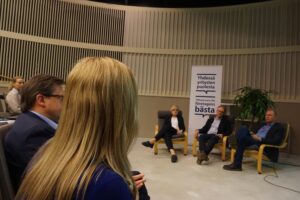 A panel of invited experts discussed cyber security, fake news and virtual threats. Markku Mantila, Chief Editor of Ilkka-Pohjalainen, says that these are huge problems.
On social media, we can already talk about a manipulation industry. For example, Facebook has removed billions of fake accounts but still cannot keep up. Those who want to spread lies can easily buy both followers and a whole bot army.
Spreading lies and fake news isn't necessarily about convincing someone that they're true. It can be enough to make people confused or scared, to make them unsure of what to believe. This is commonly called "gaslighting".
Elli Flén from communication agency Losvik & Flén says that smear campaigns targeting individuals are a big problem. She advises companies to create plans so that sufferers can get both technical and psychological help quickly if this happens.
The solution?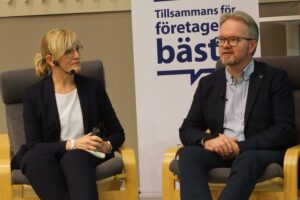 When exposed to cyber threats and smear campaigns, many people may feel a desire to simply turn off the computer and shut themselves and their loved ones off from the world.
According to Elli Flén, this would mean giving the attackers what they want, letting them win. Her advice to vulnerable companies and people is to,
Keep fighting, keep doing what you do and do it well, including online and on social media. If a company has well-managed social media accounts that communicate consistently in a certain style, there is less risk that someone will believe lies about it.
Toni Vartiainen, Director of Telia Cygate and an expert on cyber security, notes that we should also remember the technical aspects. The right tools can help us mitigate the risks when we, for example, send emails over open networks.
Hannu Mäntymaa is newly elected
The autumn forum was preceded by the Ostrobothnia Chamber of Commerce's autumn meeting, which saw the election of representatives to several committees and boards.
Janne Ylinen, CEO of Kokkolan Halpa-Halli, was reelected chairman of the board for the Chamber of Commerce itself. Stefan Sjöberg from Mirka continues as first vice-chairman, while Hannu Mäntymaa from Wärtsilä Finland was newly elected to the board as second vice-chairman.