Irishman Ronan Caulfield came to the Vaasa region in 2004 to work as a residency artist at Stundars open air museum. What started as a four-month visit turned into a life in a new home country, and over the years, friends, jobs and gained language skills have made him a part of the local community.
Today, Caulfield and his wife Leena live in Björköby, where Caulfield runs Björkö Eagle's Nest, a holiday cottage rental right in the middle of the Kvarken UNESCO World Heritage site.
I came to Finland as a painter. What kept me here was the nature and the nice people. This is a very relaxed and safe place to be, and for artistic reasons it is also very good – you have the nature and the time to think about what you are doing.
Björkö Eagle's Nest offers two cottages for rental all year round. Caulfield took over the business in 2014 and it has been growing ever since, even during the pandemic. He collaborates with Visit Vaasa, who manages the bookings and does the advertising for the cottages. Visit Vaasa also brings out brochures and maps for Caulfield's customers, so that they can find local information on everything they need for their stay.
People come here to relax in nature. In many other places you don't experience this kind of space, quietness, and freedom. That's what is amazing about Finland: you are only 5 or 10 minutes away from nature anywhere, even in Helsinki. People are not living on top of each other here.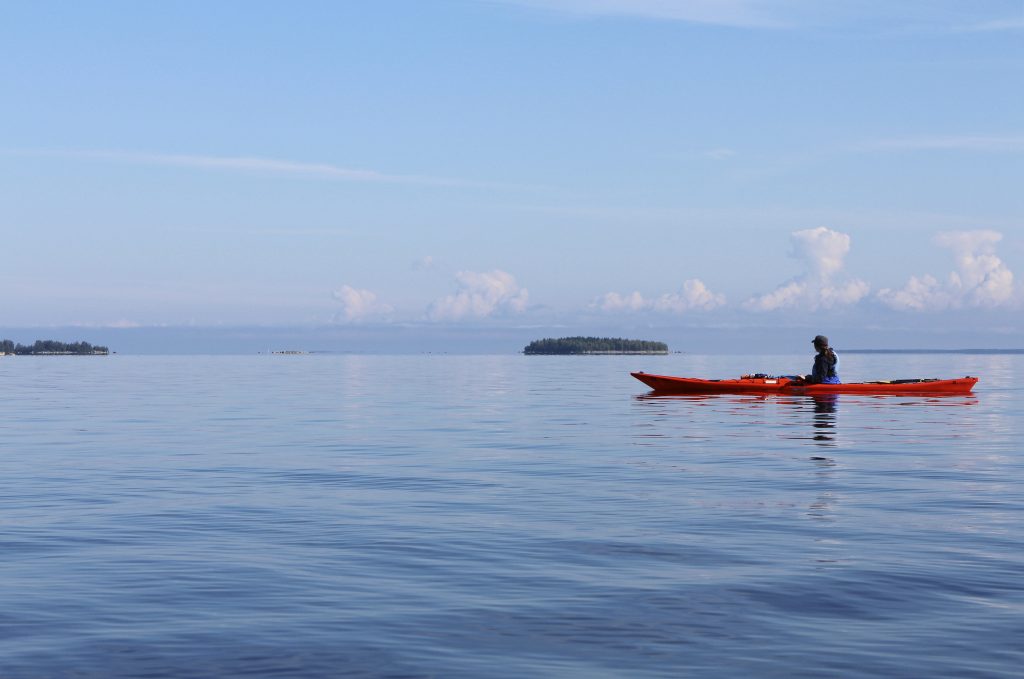 Probably the best pike fishing in the world
There is plenty to do around Björkö Eagle's Nest. The cozy cottages are only 50 meters from the sea, right next to the moraines, several nature trails, the old Svedjehamn fishing port, Salteriet restaurant and café, Saltkaret observation tower, a beach, and Björköby village with its services. Caulfield's customers also like to visit Kvarken Brewery, Aava Kertun Kotitila pet farm, and the many other restaurants and shops on Replot Island.
Then there's the islands, like Valsörarna, where you can take a boat cruise in the summer. The bird life is amazing here with over 100 species, and the pike fishing is possibly the best in the world. Sport fishermen come here from all over for the pike. A group of fishermen from Latvia visited me last year and now they are returning for a week more this autumn.
Starting this year, customers will be able to come to Björkö Eagle's Nest for wellness treatments, with sauna, massage, and time by the sea. Leena Caulfield has her own business as a masseuse, and offers visitors traditional massages as well as Finnish jäsenkorjaus, which is a type of mobilizing massage. She also performs brain relief treatments, which is a gentle deep-relaxation massage with specific music.
Customers from all over Europe
While most of Caulfield's customers are Finnish, visitors come from all over Europe: France, Germany, Spain, Italy, the UK, Sweden, Poland, Switzerland, and the Baltic countries.
The best way to come to Björkö Eagle's Nest is by car, and summertime there is also a bus connection to Vaasa city center. Many visitors stop by on their way from Helsinki up north, and some come specifically for the peace and quiet and coastal experience in Björköby.
Visitors can rent bicycles from the Eagle's Nest or Salteriet to bike around the islands, or rent a boat or a canoe to see the archipelago from the sea. Caulfield also recommends a trip to Vaasa:
Vaasa is a wonderful town with beautiful walks. There are lots of restaurants and places to see, and it's right by the sea. My visitors love the archipelago and Vaasa. There are so many things to do, and everything is well organized. Finland is a clean country and people are very kind.
Caulfield is happy to live in Björköby, where he can paint a continuously changing landscape en plain air and offer his guests unique experiences, which cannot be found elsewhere:
"I've been very lucky to be here in this beautiful paradise. My guestbooks are full of happy comments and experiences, people even draw pictures," Caulfield concludes.