Hogia Ferry Systems is a small yet globally-minded company, one of the leading companies in its field. Based in Vaasa, Finland, the company delivers ferry booking systems worldwide.
Hogia Ferry Systems develops and maintains booking systems for the ferry industry. It serves ferry companies around the world, with operations on all continents except Antarctica. Its customers operate passenger, vehicle and freight traffic, including all combinations thereof.
The heart of a ferry company
Maria Åkersten, Aftersales & Customer Support Manager at Hogia Ferry Systems, describes the booking system as a cornerstone, or even the heart, of any ferry company. The money flows through the booking system.
A comprehensive system needs to track everything from bookings and departures to customer information and special conditions. Another important feature is the ability to compile data and create reports to act as a basis for decision-making.
Customers have high demands and expectations, and Hogia Ferry Systems focuses heavily on product development. By going 'all-in' on a single standard system, BOOKIT, Hogia can always be at the cutting edge. For end customers, it offers a simple and affordable solution.
A standard application with a tailored feel
Hogia Ferry Systems works a lot with customer-specific integrations. This means, among other things, that the booking system includes a comprehensive API, which allows it to communicate seamlessly with the other applications that the customer uses.
"While our product is standardised, it is configured in such a way that it feels tailored to each customer," says Maria Åkersten.
These open interfaces allow customers to freely choose which third party systems they want to use for any purpose outside of the booking system's purview.
"For example, if our customer wants a CRM system, they can just buy the best system on the market, and we will make sure that it integrates with BOOKIT," says Åkersten.
Constantly developing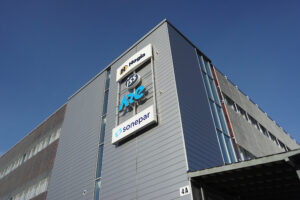 Hogia Ferry Systems has 35 employees. Developer Oscar Friman has been with the company for five and a half years. His work focuses, among other things, on developing new features for BOOKIT.
"We might need to implement specific requests, for example, the ability to record a new piece of information about a booking," says Oscar Friman.
As technology advances, Oscar Friman and his colleagues also work on reprogramming old functions to maximise efficiency in the system.
Close customer relationships
Markus Holmberg and Konrad Ivarsson Keng work in customer support, which is another important area for Hogia Ferry Systems. The company prides itself on being available 24/7 for its customers should any critical issues arise. However, this rarely happens, and the team can do most of its work during Finnish office hours.
As technical consultant Konrad Ivarsson Keng and his colleagues can attest to, Hogia Ferry Systems has a close relationship with its customers. Among them are many renowned and well-established ferry operators such as Destination Gotland, Marine Atlantic and Eckerö Linjen.
A familial atmosphere
Account Manager Markus Holmberg is the newest team member met by Vaasa International. One of Holmberg's responsibilities is connecting with customers. After working with Hogia for eight months, he seems to fit right into the team.
"There's a very familial atmosphere here, I look forward to coming to work and to the office," he says.
Steady growth
Hogia Ferry Systems has grown steadily over recent years. Even in 2020, during the worst pandemic period, they signed four new customers. The company is constantly looking for new talented employees and has recently expanded its office space in Vaasa.
Hogia Ferry Systems also offers remote work as an option. However, since most employees enjoy the pleasant office atmosphere, hardly a handful of people work from home on a regular basis.
Part of the Hogia Group
Hogia Ferry Systems is part of the Hogia Group, which is based in Sweden. As a whole, the group has about 600 employees in Sweden, Finland, Norway and the United Kingdom.
Hogia Ferry Systems cooperates with its sister companies in various ways, for example with terminal systems and public transport.